That's All Folks …
That's All Folks … was the farewell line as the cartoons finished on TV back in the day, and today's blog signals the end of the Saturday Kids Club for another season. We left it in style with the largest attendance of the summer. While the younger groups worked with their coaches in polishing their techniques, the more advanced surfers had a chance to compete in a knockout under the professional judging rules and taste the experience of putting on the coloured rash vests and going head-to-head with their peers. Our first few pictures show some of those juniors working on their stances.
At the same time competition got underway for the seniors with the clubhouse balcony offering a fine view for our judges to score the waves in each heat.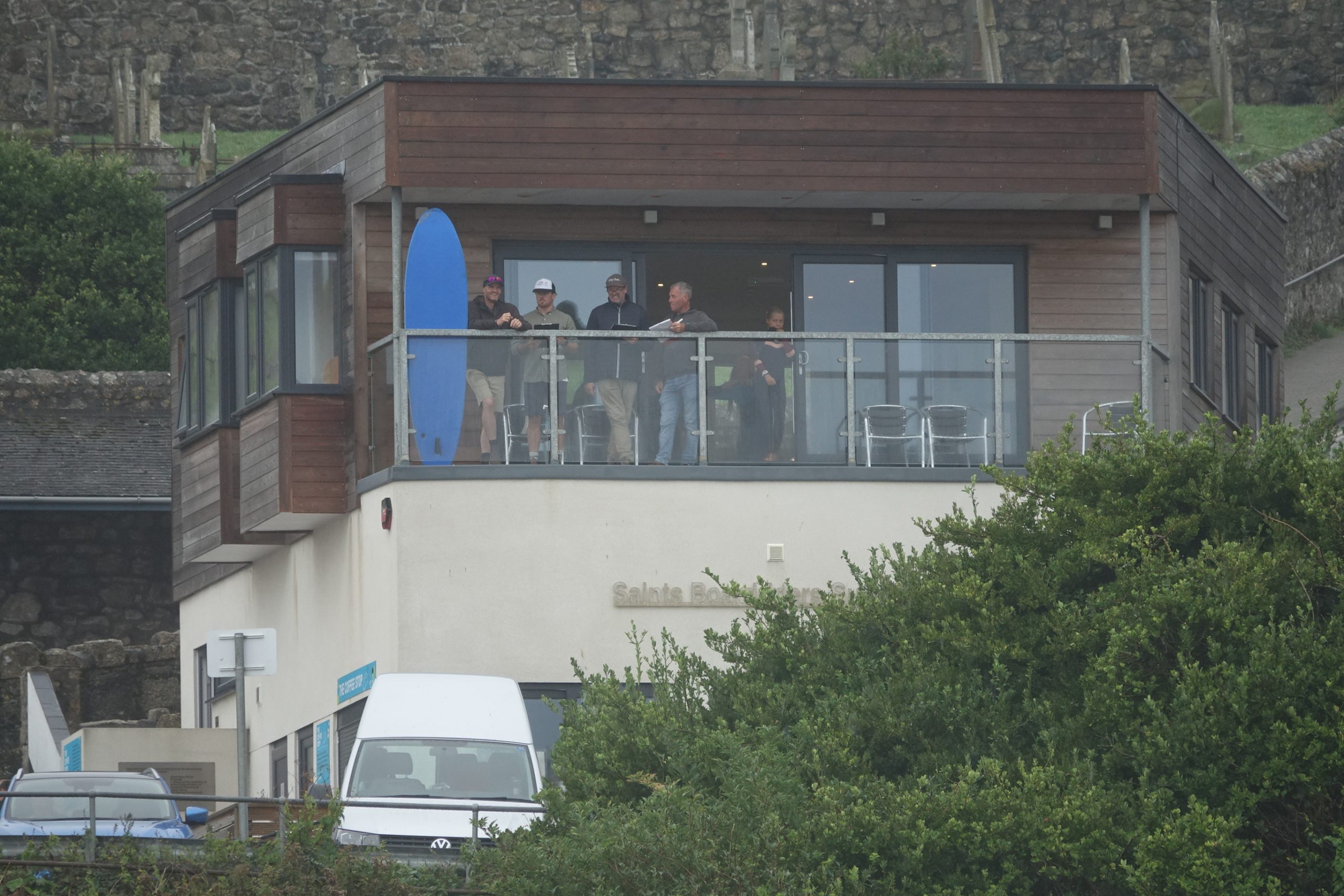 Competition was fierce as the rounds progressed, and both the boys final and the girls required a close checking of the scores of our judges before the winners could be ascertained. In each case there were three surfers within a point of winning at the end of the contest.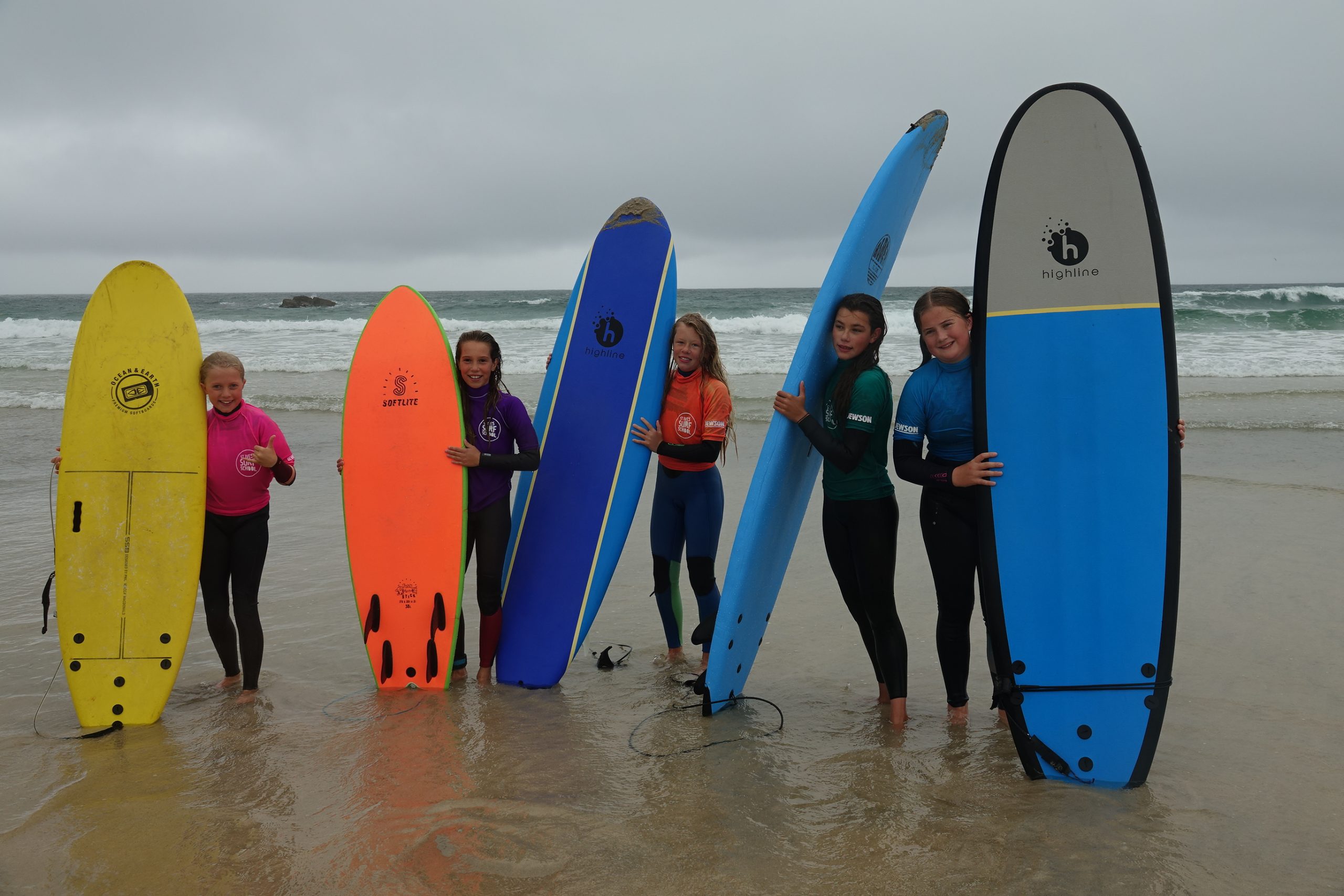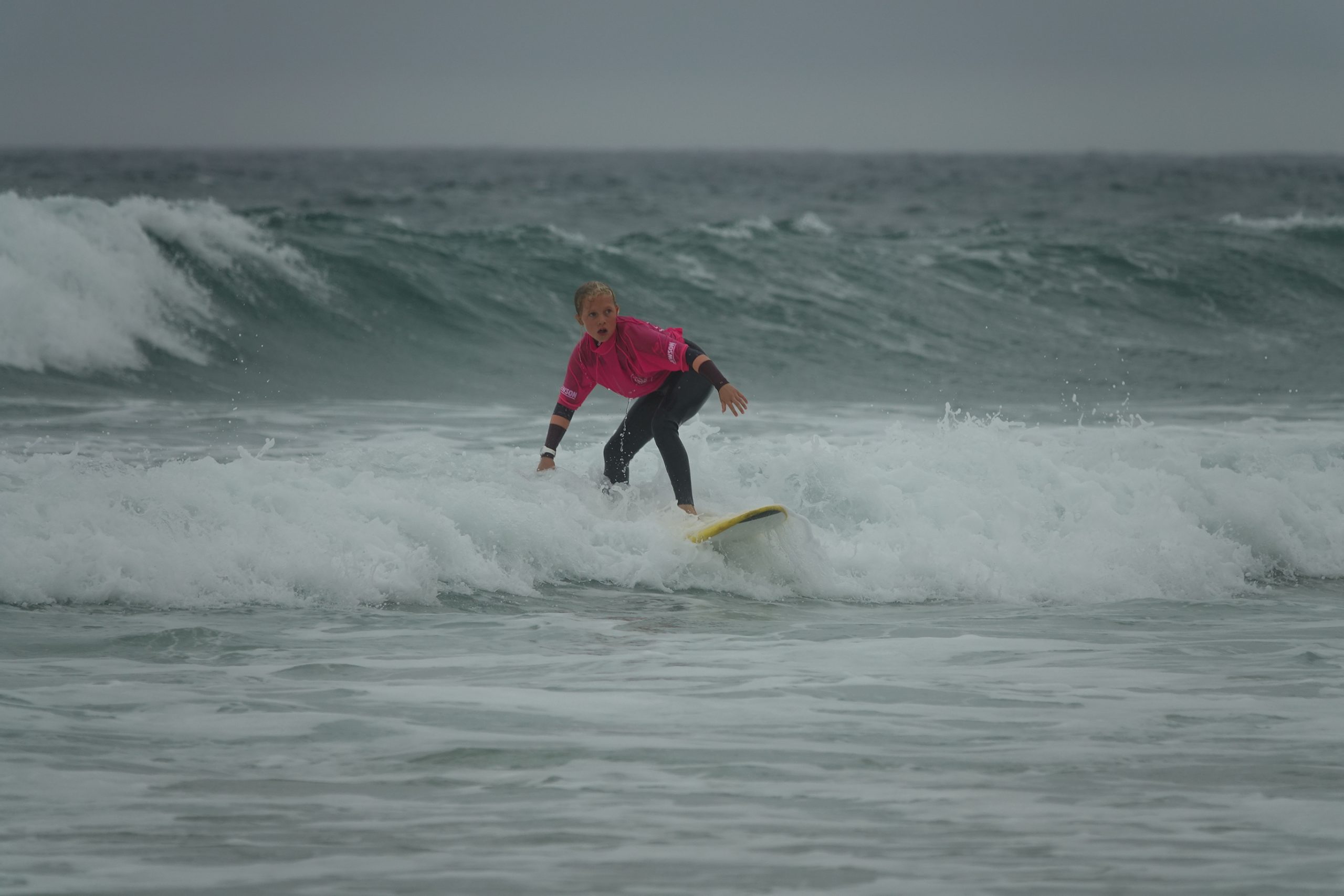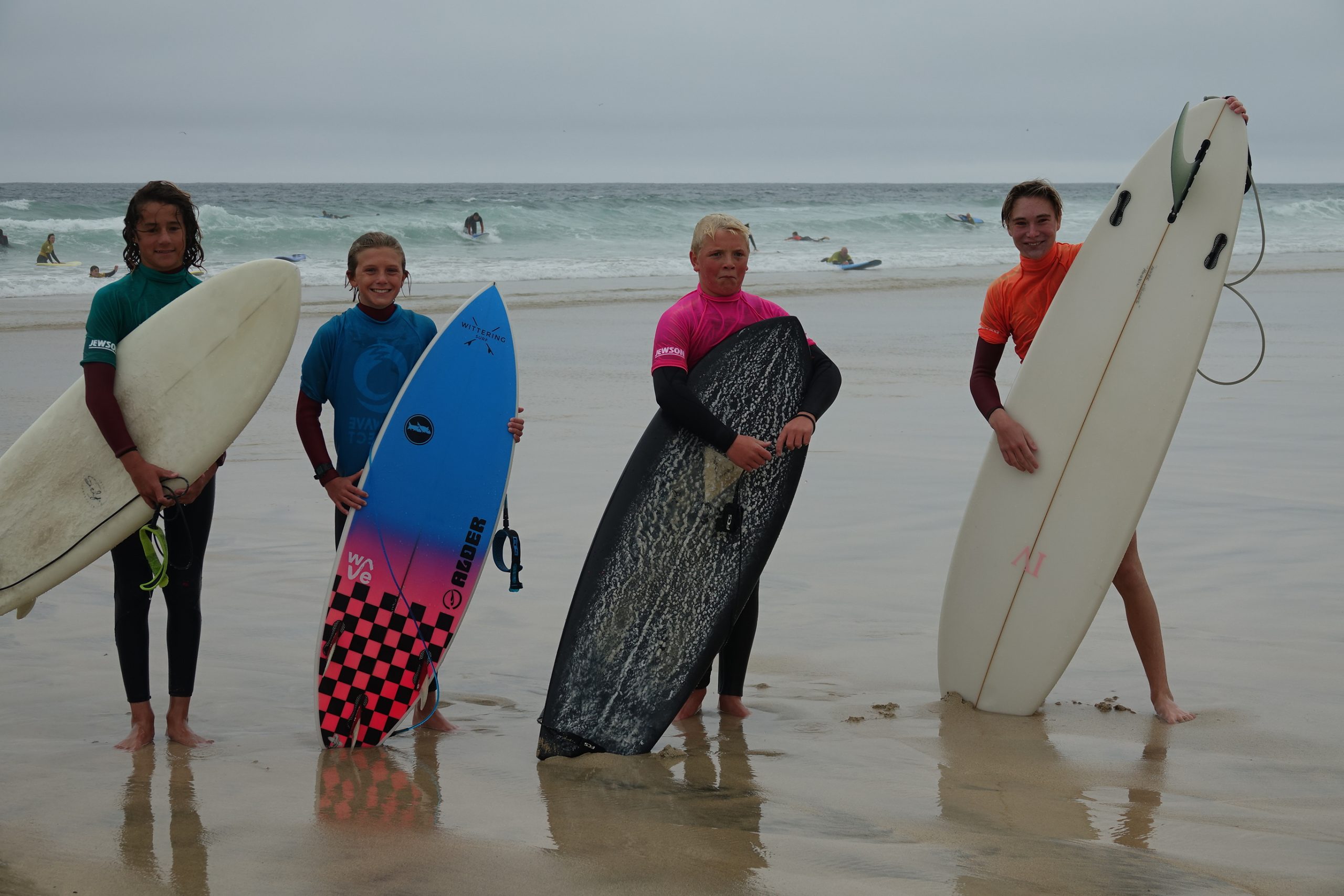 Kaitlyn took the honours in the girls event, securing her first title after making the final on several occasions in the past. Our banner picture shows our newly-crowned champion receiving her trophy from the chairman. Teddy, likewise, took home the boys trophy, a well-earned result after some near-misses in the past.
We then repaired to the clubhouse to make the presentations and to celebrate the achievements of our youngsters this season. Each group awards accolades in three categories; Surfer of the Summer, Most Improved Surfer and Most Dedicated Surfer. There were more than a few damp eyes among coaches and parents as some of these presentations were made, and a real delight in everyone in the room to share in the joy of our young recipients.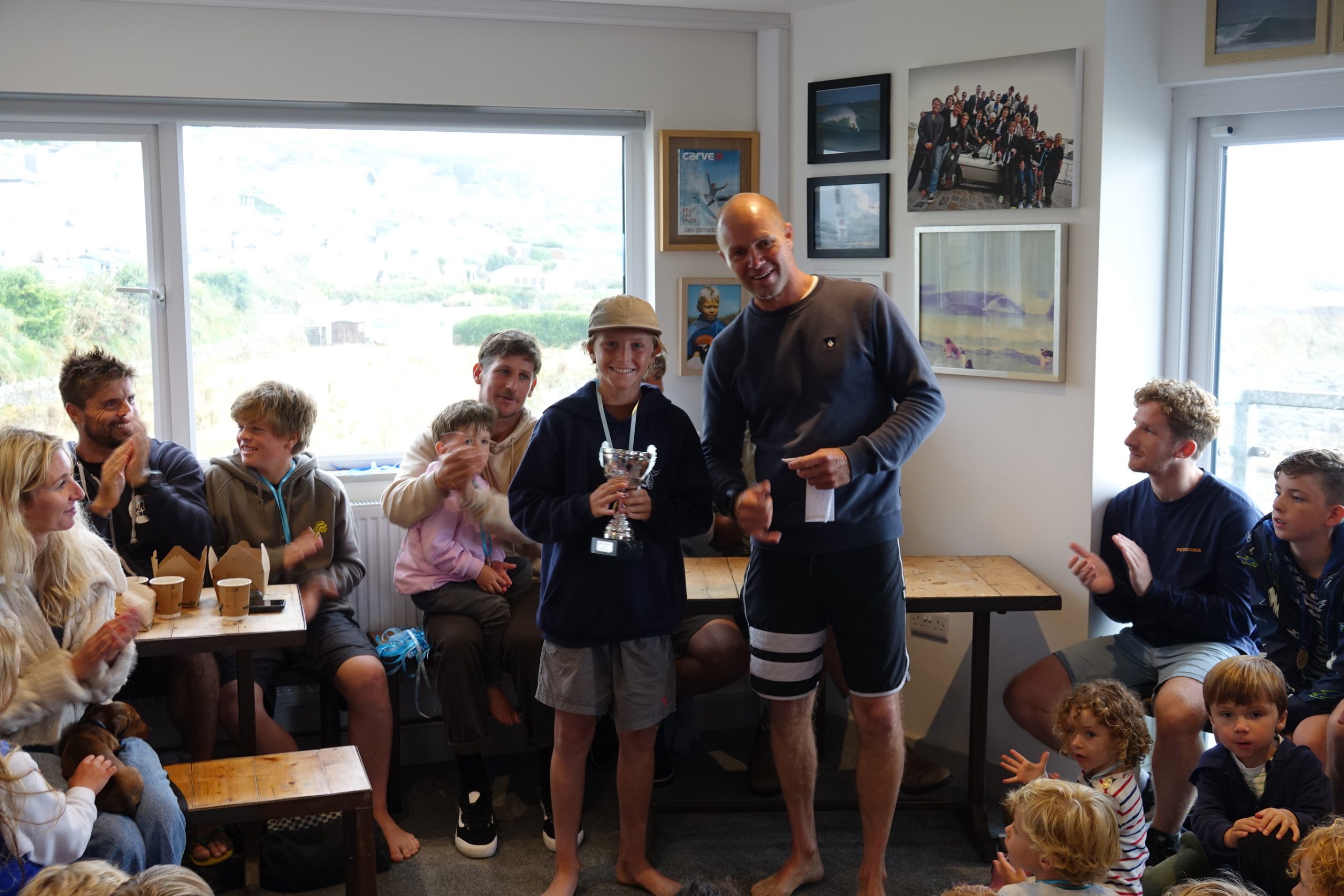 The last picture shows Teddy receiving his trophy from our chairman to the general acclaim of the room.
In closing, I must offer the heartfelt thanks of Saints Boardriders to St. Ives Surf School for hosting those Saturday sessions, coaching our youngsters and for organising a splendid end-of-season competition yet again. Thanks also to our judges and to the morning admin desk and photographer for keeping the day in focus. Wood Paper Scissors made the wonderful medals which our participants were awarded on the day, and these greatly enriched the experience of our young chargers and help us celebrate our membership of the club. Porthmeor Beach have fed us and welcomed us warmly this year and many previous years, our gratitude to them is deep. The contribution of the parents is also a factor in building the spirit of the club and we are blessed with some great support in that department.
We look forward to re-convening around the beginning of June 2022 to welcome everyone back for another season of Kids Club and another summer of Saturday surfing!
Competition news
General Club News
Groms
St. Ives Surf School events
Surf Club Events