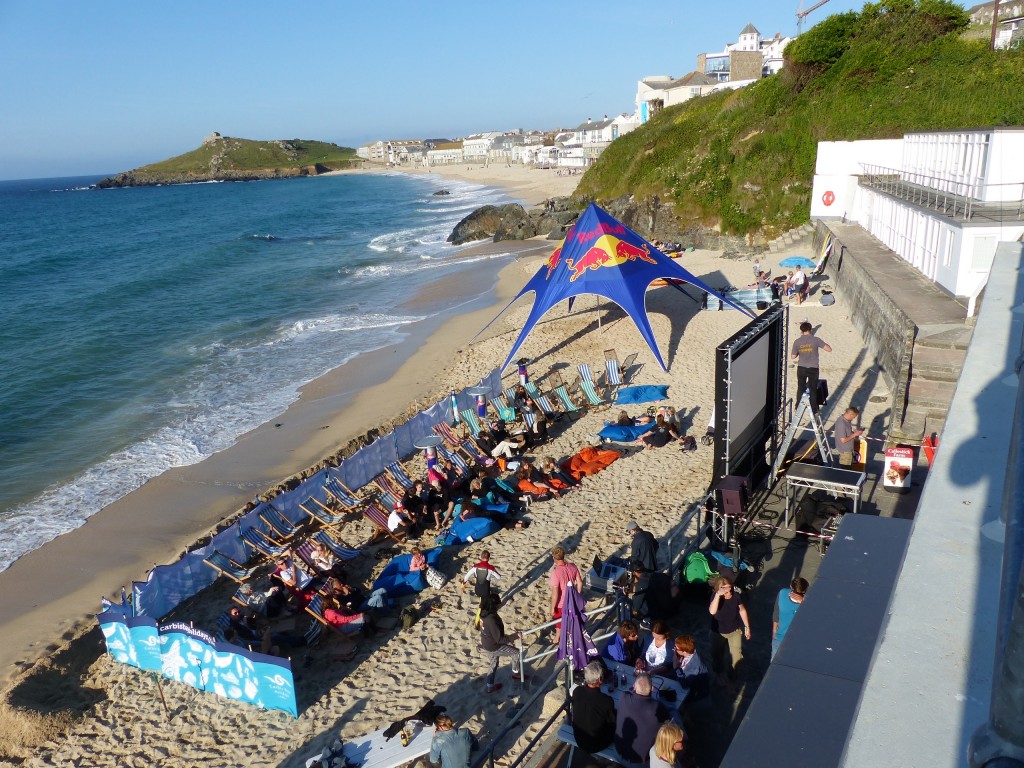 OK. So the morning high tide caused the cancellation of Saturday Kids Club,much to the disappointment of kids, parents and instructors alike! So how did you get your weekend surf thrill?
Well – as it happened – there was lots of surf action to be caught at Porthmeor Beach over the weekend, courtesy of St. Ives Surf School. On Friday night Porthmeor West Beach Bakery hosted the Red Bull Surf Cinema, showing a series of Jamie O'Brien films interspersed with locally made surf films, including the premiere of Harry De Roth's latest. It's the best evening of the year for gathering local surfers together, catching up with friends, and for club members young and old to hang out!
DJ Justo kept us royally entertained with some soulful sounds until the evening sun dropped behind Man's Head and the screenings began. And he was on duty again on Sunday morning aboard the Red Bull truck as the 5th edition of the famous Fancy Dress Swellboard Shootout commenced at Porthmeor.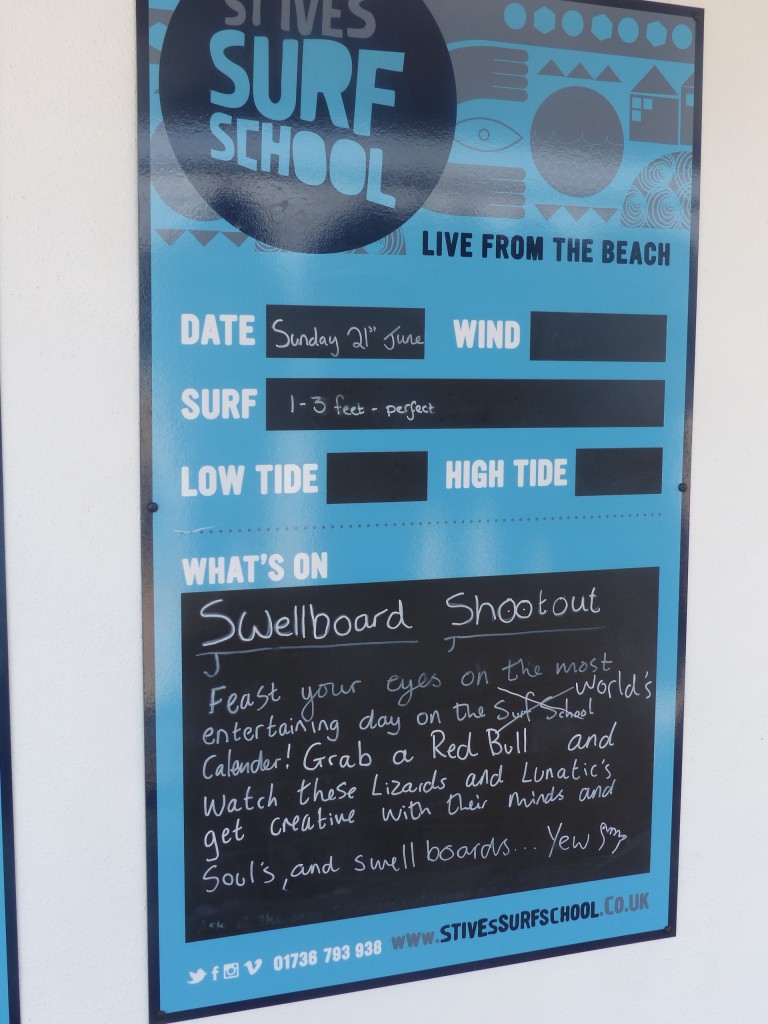 Twenty eight teams reported for battle sporting some amazingly inventive fancy dress ideas, and after displaying for the judges, the whole competition paraded through St. Ives to remind the town that  International Surfing Day was being celebrated at Porthmeor.
I'll leave the details of the format and regulations as they have been well explained in blogs from recent years – and proceed to the results as announced at the after-party at the Balcony once the beach festivities had ended:
Best fancy dress earned Kiss a £200 prize donated by Maurice Symons of The Sloop Inn
The Jamaican Bobsleigh Team won the Shootout in the water – boosted enormously by a stonking ride by Adam Bayfield which received two 9's and a 10 from the judges and earned him a goody bag of Rhythm clothing, and helped earn his team a first prize of a trip to surf the Severn Bore courtesy of Red Bull.
And to demonstrate that the day wasn't all about surfing prowess –  Eggselence were awarded the wooden spoon for the lowest score of the day – along with some cool clothing!
We are delighted to once again help Surfers Against Sewage in their great work in campaigning for clean oceans, and heartfelt thanks go out to the sponsors who supported the weekend's events :  Red Bull, Rhythm Clothing, Korev Lager, Robies Robes, and Porthmeor Beach. Thanks also to Barnie and Joel, RNLI lifeguards who volunteered to provide water cover for the event, and to our distinguished judges – you know who you are!
Watch Luke Pilbeam's video edit here!
Nick Pumphrey's photo gallery of the Swellboard Shootout is here
And Harry De Roth's latest video is here
But enough about our weekend – How was yours?