Whew! So another summer season draws to a close. It's the last Saturday of September and time to assess what we have achieved in Kids Club this year. For the junior groups it's a case of one last coaching session, practising those hard-won skills. First there was an end of term photo, and then we were underway.







Our advanced surfers, meanwhile, were competing further along the beach. The waves were small but contestable as the event began, though they diminished in size through the morning necessitating the use of swellboards rather than their own shortboards for some of the bigger competitors.
Our judges














The heats and the semis were hard-fought affairs with the small conditions meaning that all the competitors took plenty of waves, keeping the judges very busy back on the beach. Eventually, the places in the respective finals were earned – with a special mention to Millie Rose who abandoned her semis part way through after suffering a weeverfish sting, but had registered two good enough scores to make the final. She was treated at the RNLI station and returned to contest the final undeterred!








And so, we gathered back at the gazebo to admire the table full of glittering cups and learn who would get to take one home this afternoon. Group awards were made in three categories as always; Most committed surfer, Surfer of the summer and Most improved surfer. Here's a gallery of those who impressed their coaches this summer:
Trophy time!











And only then did we learn the results of the finals as the competitors were called in reverse order to gather for a celebratory picture. Lucas Vima collected the Boys trophy, and Elizabeth Hewlett took out the Girls comp. Well done to all our finalists and a particular well done to both our champions!
Lucas, the champ, second left
Lizzie, left, is our winner!
There was one last award to be made on the day. Lifeguard supervisor, Lloyd Davies, had found good cause to honour one of our members for his outstanding contribution in helping Porthmeor lifeguards this summer. It's a special accolade which is not offered lightly – indeed it hasn't been awarded for several years – acknowledging the help Caz made to the lifeguard team in carrying, fetching, moving equipment, bringing lunches and generally easing the burden on those hectic summer days at the beach. He's already been earmarked as future lifeguard material! Well done that boy.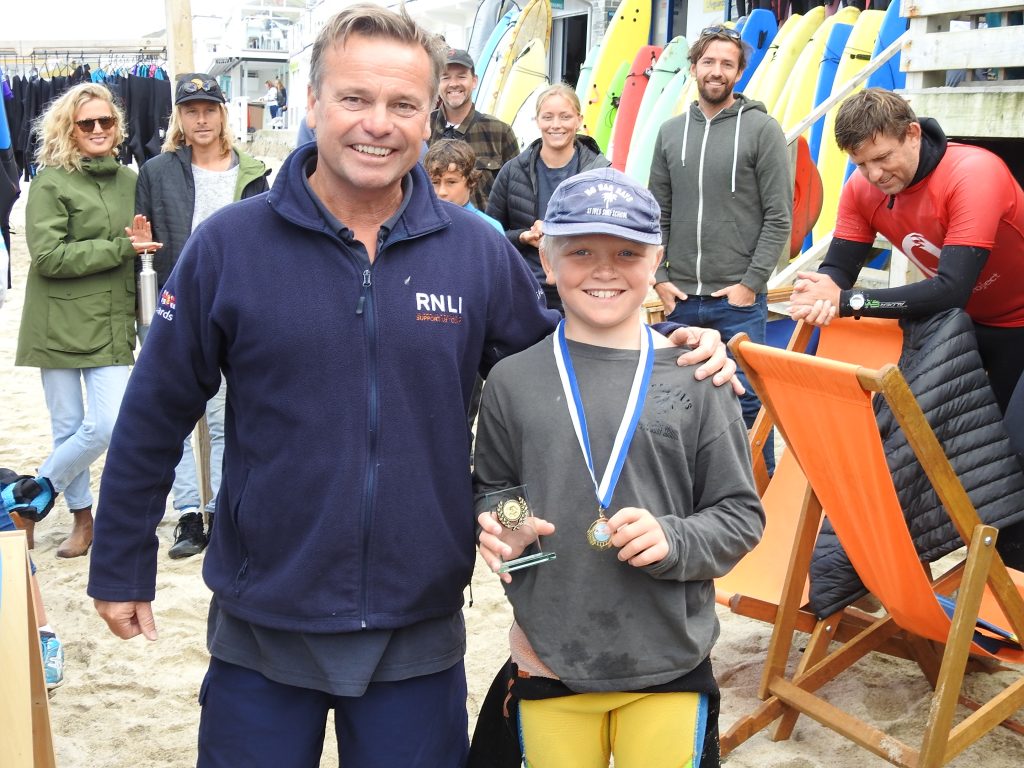 In conclusion, may I offer on behalf of saints boardriders our gratitude to the parents and helpers of our junior members for their contribution to the smooth running of the Saturday sessions this year. Thanks to our judges for their officiating today, and to Porthmeor Beach management for their unstinting support for the club and for feeding our members on this celebration of our season. Thanks to the RNLI, and Porthmeor lifeguards who patrol the beach, in particular to those lifeguards who give their coaching to our kids prior to their work shift on Saturday mornings. And our final thanks goes to Harris and his team of surf coaches at St. Ives Surf School without whose enthusiasm and drive we would cease to function. You guys are the best!
But before I go, let me remind you that the Surfers' Ball is fast approaching. Last year's sell out was widely acclaimed as the best night of the year in the town. St. Ives best-dressed event is on the 26th October at Tregenna Castle. Music from Sandy Acres Seven, Tom Quirke and Ross Williams, and a late night dj . A three course dinner, auction and casino plus those glamorous red carpet photos! All for £30. Tickets are going fast so get yours now. They're available through both Tregenna Castle and St. Ives Surf School, I hope to see you there!