Red Bull Surf Cinema
The prelude to The Swellboard Shootout came on Friday evening when the Red Bull Surf Cinema opened it's doors again at Porthmeor West to entertain us with a new selection of surfing shorts supporting a main feature, BMX maestro Danny MacAskill's new movie "Epicuen". Most of the Surf School luminaries were there enjoying some R&R before a stacked weekend including Saturday Surf Club and regular coaching prior to the mayhem that was promised for Sunday.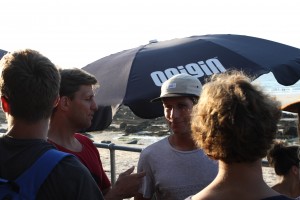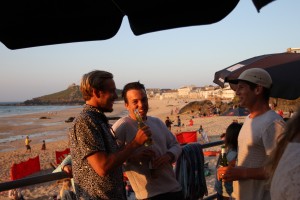 As we waited for darkness to fall on one of the longest days of the year, there was plenty of time to savour the free pizza on offer, courtesy of our hosts Rhythm, Red Bull and Porthmeor Beach.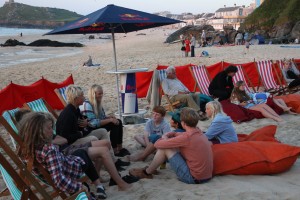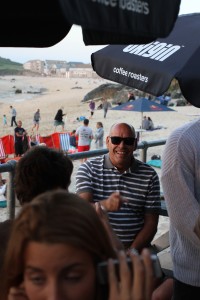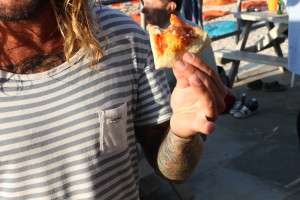 The shadows finally began to settle over the beach on a balmy summer evening and the Fatboy beanbags and the deckchairs gathered their occupants as the show began. There were two instalments of Jayce's winter trip down through Spain and Portugal, and also a double bill of Rhythm videos. The first, a surfing trip to Indo featured  some silky longboarding, the second was a snow trip into the Arctic principally snowboarding , and a particularly cold surfing session. We also saw a trailer for "Behind the Tide", a forthcoming film from former St. Ives resident, Romain Juchereau.A surf documentary showing a different perspective of the surf culture with independent people getting involved in shaping, glassing, photography and surf art. A distinct summer chill had set in by the time the event began to wind up, but we had once again shared a magical surf cinema experience courtesy of Red Bull. I had noticed soon-to be champions The Minions in the crowd, I wonder what surfing tips they had found during the show!  Until the next time…
General Club News
Surf Club Events